Best Machu Picchu Day Trip From Cusco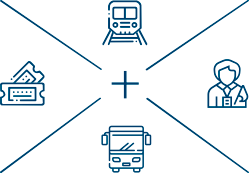 Machu Picchu is a Biosecure destination, last October 2020, Machu Picchu received the distinction as a safe travel destination.
Traveling to Machu Picchu in the years 2020 – 2022, will be incredible, because it has never been so easy, orderly, cheap and above all a biosecure destination, because your health is the most valuable thing for us.
This tour to Machu Picchu is to visit the Wonder in one day, with everything included and above all with all health security, complying with all the health and safety protocols in all the processes (steps) so that your trip to Machu Picchu in 2020 – 2022 be amazing.
It is a tour designed exclusively for this new way of living, a private tour to Machu Picchu, where you are the main protagonist, for this reason the entire operation is in PRIVATE (transport, tour guide, assistance), dedicated to you exclusively, complying to the letter all the biosafety protocols.
NOTE: A designed tour, with the minimum exposure of people, throughout the tour, a private tour to Machu Picchu, ideal for these new times.
We will be at your hotel with a private transport (where only you or your travel companions will go) we will transfer you to the train station.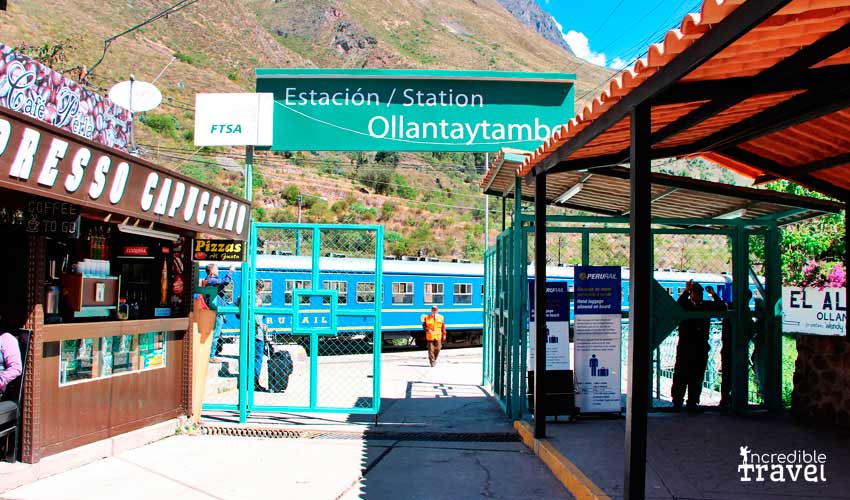 You will go for 1 hour 30 minutes from the City of Cusco, along a road with incredible landscapes of the Andes mountain range, arriving at the town of Ollantaytambo, a beautiful ancient Inca town, this is where the Ollantaytambo train station is located, here before Entering the train station you will go through biosecurity measures.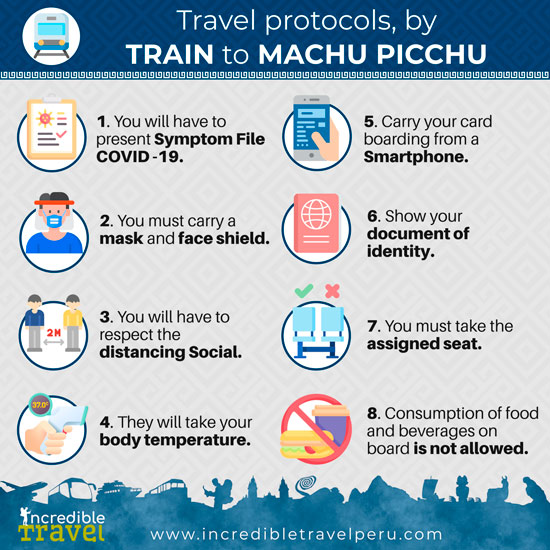 This control process will be very fast. You will get into the train car that will take you along a wonderful rail road between the mountains formed by the Vilcanota river, your journey within the train will be very comfortable and safe with the social distancing (healthy distance) that corresponds to this new normal, enjoy your train ride.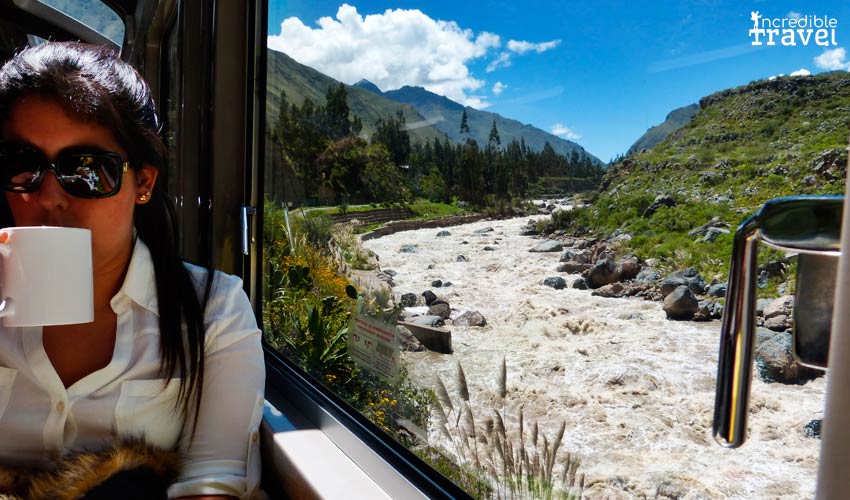 You will go by train to Machu Picchu, for 1 hour 45 minutes, a wonderful journey until you reach the well-known Machu Picchu Pueblo (Aguas Calientes). We will be waiting for your arrival at the Machu Picchu Pueblo train station, where we will also evaluate your temperature and correct use of Personal Protective Equipment (PPE).
We will walk from the Machu Picchu train station, to the bus station (this walk is only 5 minutes), upon arrival at the bus station, you will follow some protocols: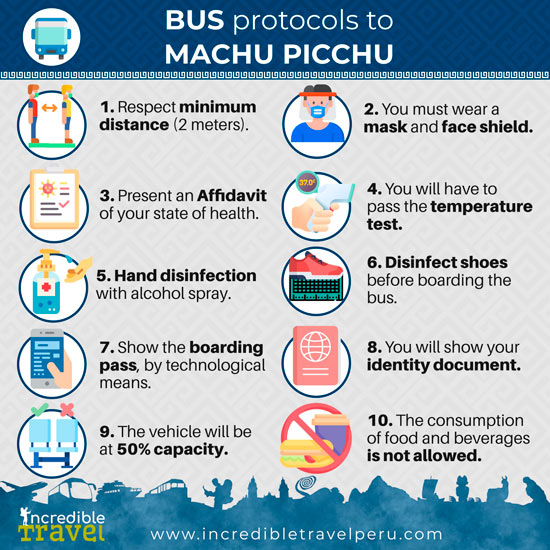 You will go along a zigzagging road through the dense forest that will take you to the door of the World Wonder, you will always be accompanied by our tour guide.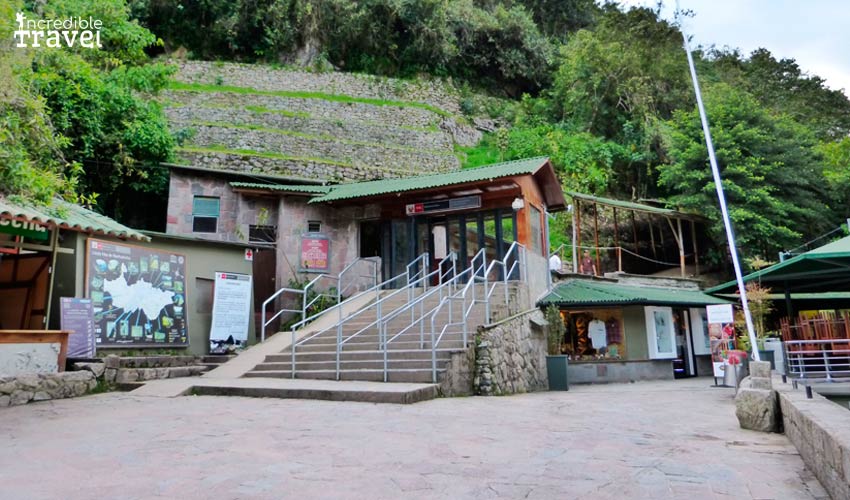 Before entering the wonder of the world, Machu Picchu you will have to comply with these protocols, which are mandatory.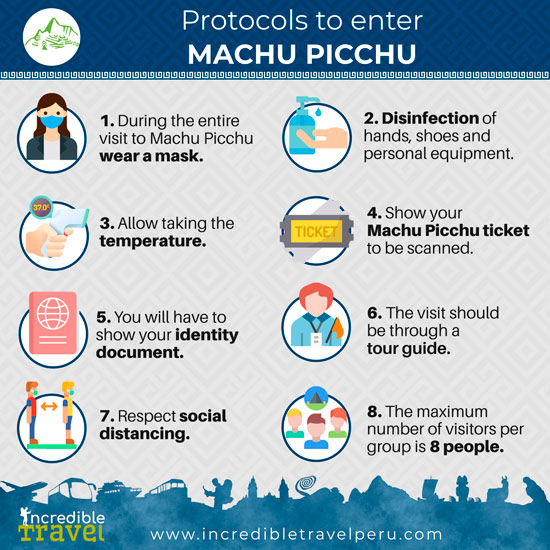 You will get to know Machu Picchu, accompanied by our tour guide, you will go through the so-called long circuit, where you will walk to the so-called guardian's house, from where you will have an incredible view of the Machu Picchu Wonder, then you will go to the main portal, the quarries sector , the plaza of the temples, the Intihuatana (solar clock), the sacred rock, the temple of the condor, and finally you will walk through the fascinating Inca terraces of Machu Picchu.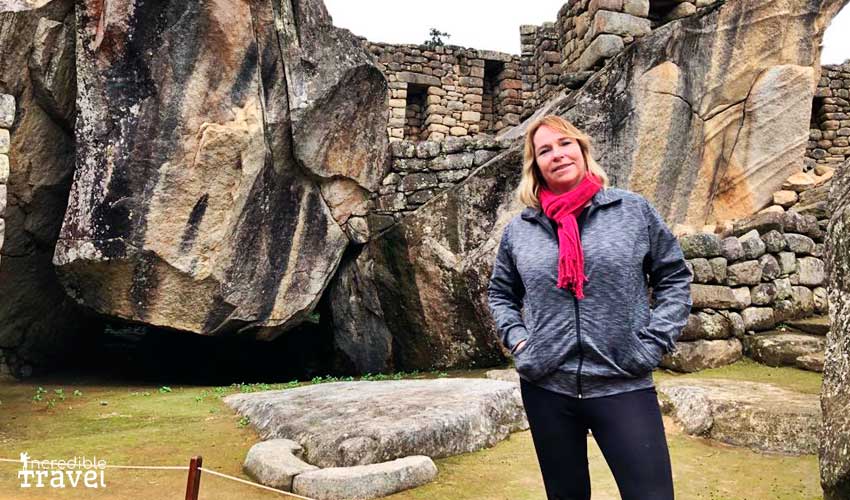 Throughout the tour you will always be accompanied by our official tour guide who will tell you the great history of this magical place, and will also ensure that you are safe and ensure that all biosecurity protocols are complied with.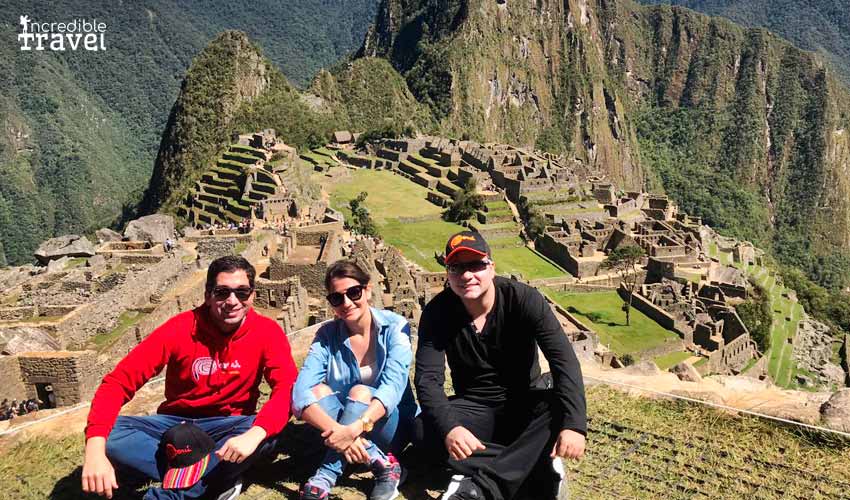 You will be amazed to have known and stepped on the World Wonder of Machu Picchu, at the end of the tour we will accompany you to take the bus that will take you back to the Town of Machu Picchu (Aguas Calientes).
Take advantage of walking through the streets of the town of Machu Picchu, where you will find many restaurants of great variety and quality, all complying with biosafety protocols.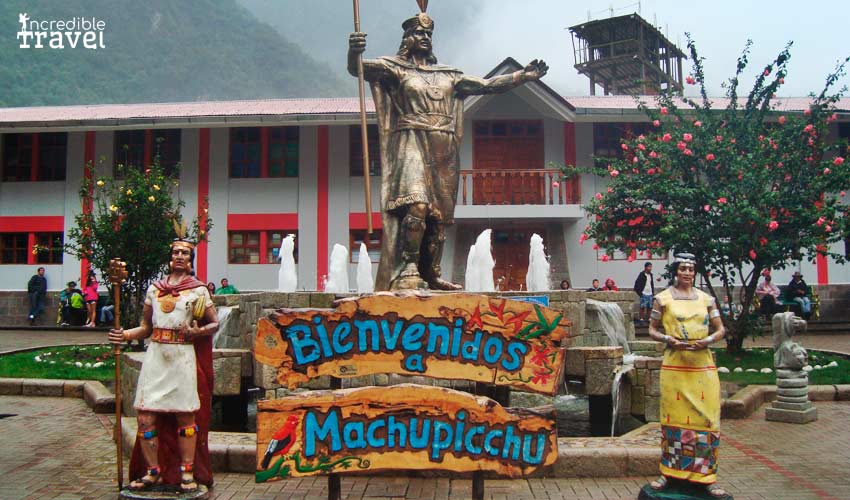 You will have to return to the train station, where you will follow the same biosecurity control steps to get on the train, which will bring you back to the train station, remember that the journey inside the train is safe and respecting social distancing.
You will arrive at the Ollantaytambo train station, there we will be waiting for you, to transfer you for 1 hour 30 minutes to the City of Cusco, where we will drop you off at your hotel.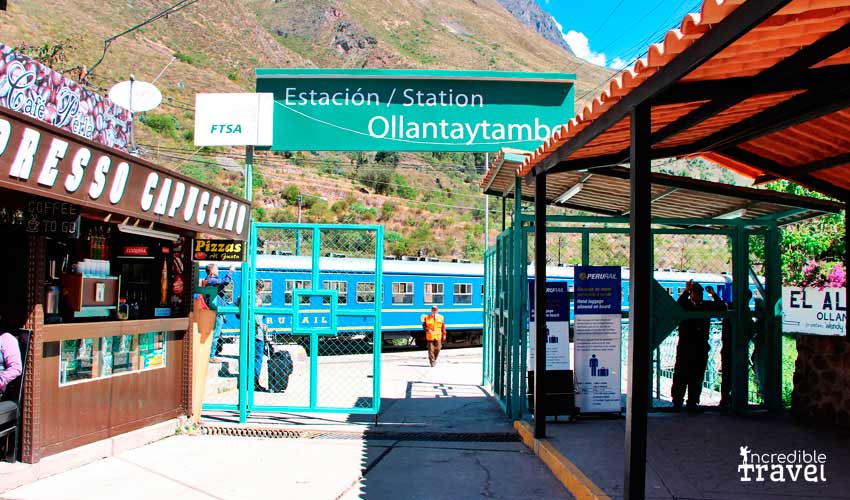 It will be an incredible experience, this new way of knowing Machu Picchu, easy, orderly and safe, will make your trip to Machu Picchu responsible.
End of our services.
We will inform you in detail of all the protocols that you must comply with to travel to Machu Picchu.
We comply with all the protocols established by the Peruvian government, so that your trip is biosecure.
Transfer from your hotel to the train station, in a PRIVATE tourist transport, just for you and your fellow travelers.
Tourist train ticket from Ollantaytambo station to Machu Picchu Pueblo station (Aguas Calientes).
Bus ticket from the Town of Machu Picchu to the entrance gate of the Wonder of Machu Picchu (up and down).
Entrance ticket to Machu Picchu.
The guided service inside Machu Picchu will be in PRIVATE, an official tour guide just for you.
Tourist train ticket from Machu Picchu Pueblo to Ollantaytambo.
Transfer from the train station to your hotel in PRIVATE.
We will permanently assist you throughout your trip.
Air tickets, local or international.
Hotel or accommodation nights.
Food (If you want the lunch option, please write to us).
Extras not detailed within the tour to Machu Picchu.
Identity document (DNI, ID or Passport), with which you made your reservation.
Personal protective equipment (PPE), which are mandatory.
Mask.
Face shield.
Small backpack.
Regarding your clothing, consider wearing.
Cap or hat.
Sunglasses.
Sunblock cream.
Polo, preferably long-sleeved shirt.
Jacket or jacket if it is waterproof will be much better.
Comfortable pants, which can be jeans, leggings or a diver.
Sneakers, sports or trekking tennis shoes (which will give you a lot of comfort).
Rain cape or rain poncho (for the rainy season December-March).
Extra batteries.
Bring cash (in soles currency).
A safe trip, respecting all the protocols to know Machu Picchu, as the main purpose, is that you feel protected.
Our rates are variable for the Machu Picchu 2020 – 2022 tour, according to the following criteria:
You are from the countries of the Andean community (Bolivia, Colombia, Ecuador).
Students, minors.
If you are a group of travelers, we have cheap rates.
Are you Peruvian or Peruvian? We have unbeatable rates to travel to Machu Picchu in 2020 – 2022.
To know our rates, write to us at: info@incredibletravelperu.com or directly to WhatsApp: +51 993 903 870.
Book the best Machu Picchu day trip from Cusco 2020 - 2022
To find out more about our special rates or to book, please complete this form:
Make the most of your time, exploring more incredible places. Here are some options for tours in Peru.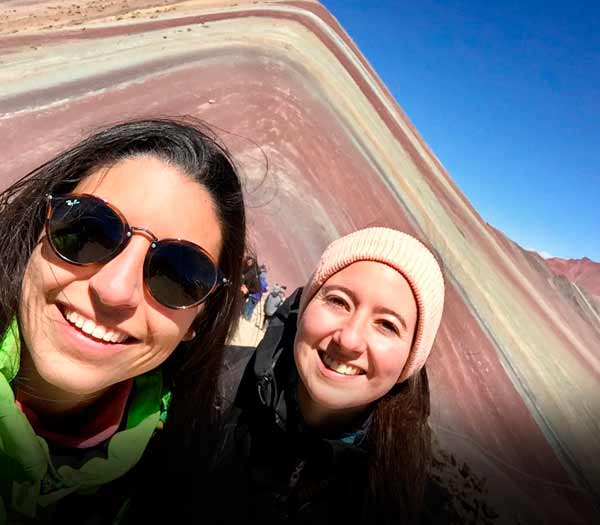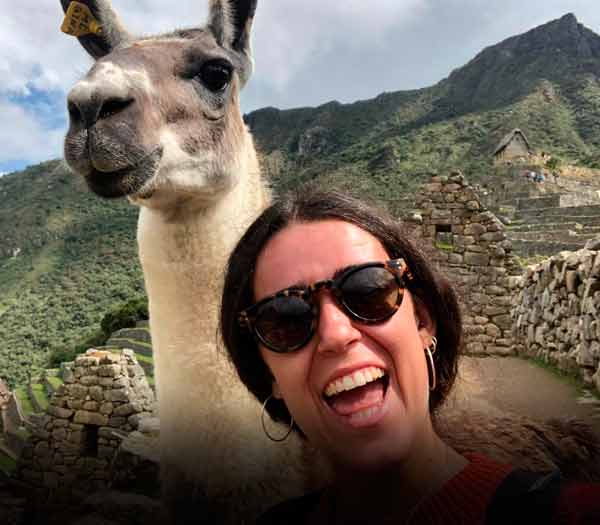 Tour Sacred Valley and Machu Picchu
2 Days / 1 Nights
From:
$ 339.00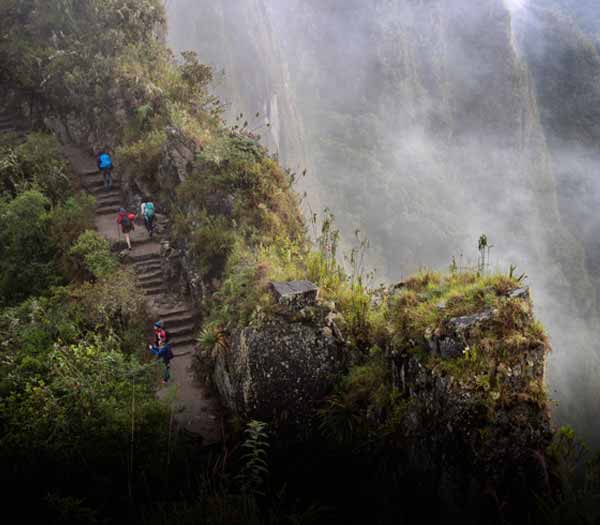 Machu Picchu and Huayna Picchu 1 Day