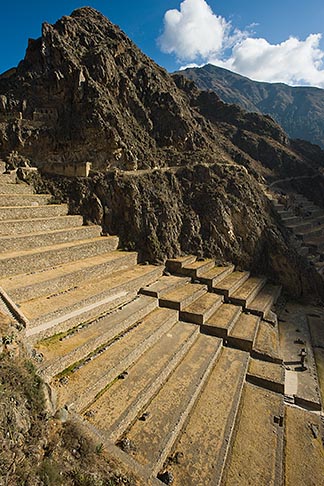 Ollantaytambo Archaeological Park.
Location:
Province : Urubamba.
District : Ollantaytambo.
The Ollantaytambo Archaeological Park is located in the district of the same name, in the province of Urubamba, department of Cusco. It was declared as such through National Resolution No. 395 of 2002.
Access:
It is accessed by the paved roads Cusco – Chinchero – Urubamba – Ollantaytambo and Cusco – Pisac – Calca – Urubamba – Ollantaytambo.
Extension:
Area : 34, 800 hectares.
Perimeters : 156, 350 linear meters.
History:
The clearest historical reference to Ollantaytambo comes from the chronicler Sarmiento de Gamboa, who relates:
"… went through the memo valley and river of Yucay down to a seat that they now call tambo, eight leagues from Cusco, to where some sumptuous buildings and the work and masonry of which the children of Chucchi Cápac, the great cinchi of Collao… while he was at war, Pachacuti, his father, finished the buildings of Tambo and made the ponds and casques of Yucay pleasure… "
The great Inka ruler Pachakuteq had Ollantaytambo built not only as a tambo or product warehouse, but as a llaqta, with several sectors for various uses such as the Temple of the Sun, located at the top, where finely carved cyclopean lithic blocks are valued, masonry enclosures of water, longitudinal and transverse streets that form rectangular blocks integrated by the kanchas or platforms for agriculture.
An impressive sector of Ollantaytambo are the qolpas or warehouses that were used to store products, located in the middle afternoon of Cerro Pinkulluna. Its buildings occupy successive levels, separated by small platforms to adapt to the topography of the terrain. In the sector of entrance to the town, retaining walls can be seen on both sides, one of which is altered while the other maintains its architectural structural composition that shows niches. It is known as the "corridor of a hundred niches".
Ollantaytambo has four ayllus: Qosqo Ayllu, Chinchaysuyo Ayllu, Arak´a ma Ayllu and Yanaconas Ayllu. It also includes other sectors such as Q´elloraqay, which shows enclosures for domestic and ceremonial use and agricultural platforms; Ñaupa Church made up of platforms, stairways and the carved rock called "Wacatrancana" that features carving of stepped signs and geometric figures in high relief; quarries of Cachiphata, where stone elements of different sizes still resembled; Perolniyoq made up of hundreds of rectangular two-story buildings and a natural waterfall located at the bottom; Pumamarka, with warehouses and enclosures for housing and administration; and the Qolqas in the peñas sector, made up of rectangular plan enclosures, aligned in the straight row, with ventilation ducts at floor level, without access bays.
Manco Inka modified Ollantaytambo to resist the Spanish invasion, ordering the construction of buildings of a defensive nature and adapting the spaces or enclosures for domestic use for the overnight stay of the entire army and the imperial entourage, the chronicler Pedro Pizarro, who accompanied the Spanish, narrates the siege of Ollantaytambo as follows:
"… The seat where the drum is is very strong, with very high platforms and very large stonework strengthened. It has a single entrance close to a very nice mountain range, in all of it many people of war with many gauges that they have upstairs to cast when the Spaniards wanted to enter to take the entrance, the door was high with large walls on one side and another walled a stone and mud with a very thick wall and only a hole in it where an Indian on all fours entered … passing the river we took this plain and wanting to attack the entrance, there were so many gages that made and stone that shot and arrows, that although they were many more Spaniards than we were, they all were killed ".
Before his withdrawal to Vilcabamba, Manco Inka ordered Ollantaytambo to be set on fire, which is evidenced by the archaeological record of the traces of said event in the architectural elements.
Make the most of your vacation in Peru. Find here the best tourist destinations according to your tastes and needs.
Lima, Cusco, Machu Picchu
From:
$ 900.00
Lima, Ica, Paracas, Machu Picchu
From:
$ 900.00
Lima, Machu Picchu, Puno
From:
$ 900.00
Wonderful experience!! The service received on the tour through Incredible Travel and its operator Marco Antonio was excellent. We really receive for the agreed price EVERYTHING offered. He highlighted the human quality of the personnel in charge of attending each of the stages of the trip, both outward and return, as well as strict compliance with the scheduled times. We thank the Lord guide Américo, the personalized and affable attention that he gave us and we recognize the full knowledge of both the historical city and the great history of this world heritage jewel, which Peru owns and offers.

Holidays with Incredible travel We had an incredible stay in Peru, we saw wonderful places in just 10 days, we ate new and very different dishes, we met wonderful people who were our guides and transporters and finally we fell in love with the country. All this was very easy with the help of Incredible Travel and Marco who was always attentive to our concerns and giving us recommendations. Highly recommended.

We decided to go to Cusco as part of our Honeymoon trip. The Incredible Travel staff waited for us at the airport and the whole adventure began. The manager, Mr. Marco makes you feel at home and guide you every part of the way. Everything is highly organized and you never feel lost or alone. The staff love their culture and work very much and their passion is reflected. Machu Picchu was an unforgettable experience. We are wanting to return to Cusco to finish living all their experiences and know everything and we will definitely return with this company.

Traveling with Incredible Travel was one of the best decisions to travel in Peru. My family was happy with each of the services in addition to each guide, driver, staff, etc. They were the friendliest and most helpful until they reached a bond of friendship with each of them. In our trip we managed to know most of the tourist places from Lima to Puno. I personally recommend it 100% Thanks for everything Incredible Travel from Mexico.